Mayor, city council look ahead at 2019
Elected officials list items they will focus on in New Year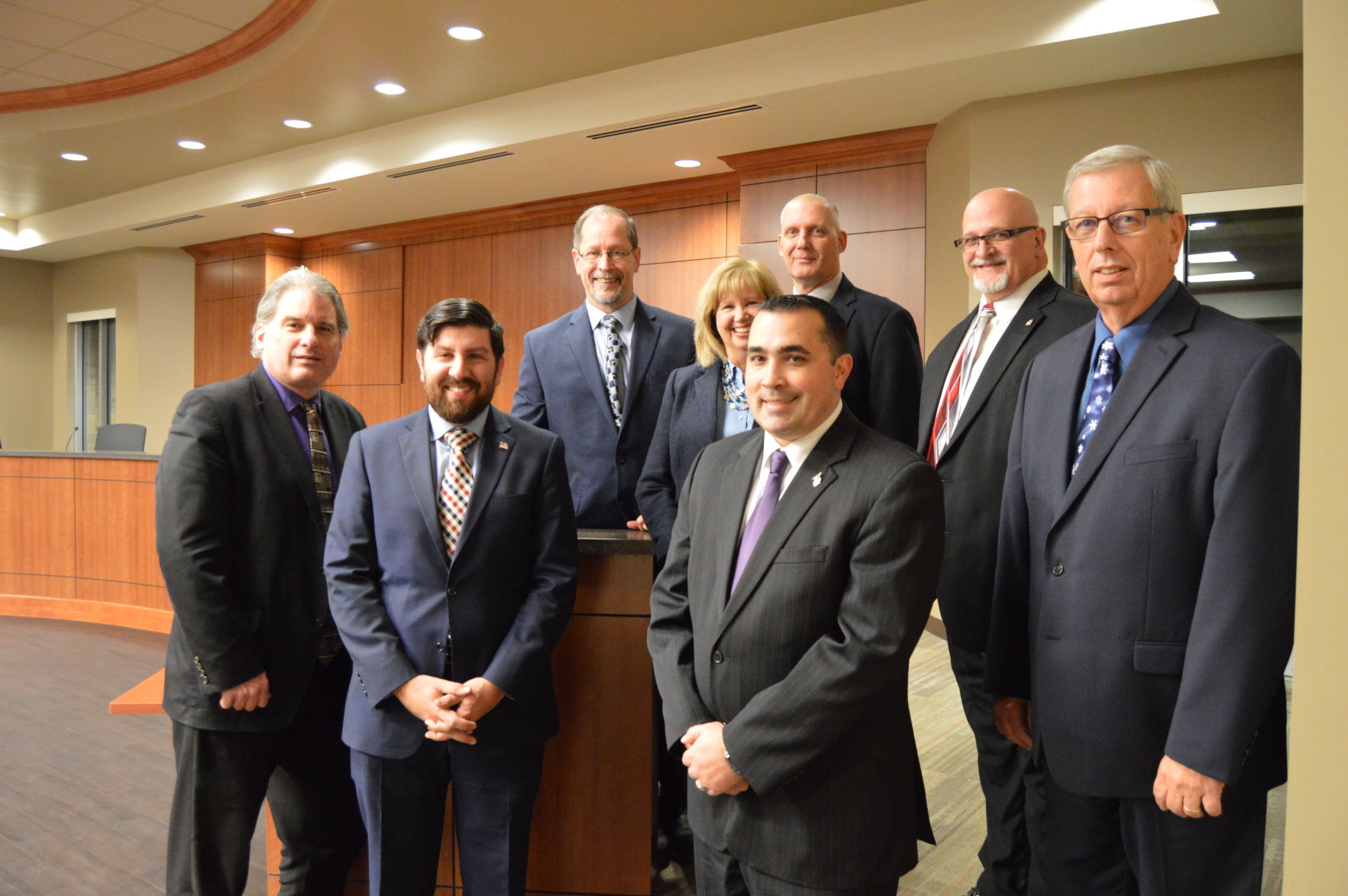 Each city council person and the mayor share the projects and issues they would like to see tackled in the year ahead. File photos by JAIME ANTON
One lingering issue is the Timber Ridge Plaza. The anchor store remains empty since Rego's left in 2009. City officials want Carter Properties, the plaza's owner, to more aggressively market the site in the new year. The mayor says he has brought potential tenants to the owner over the years, even as recently as a few weeks ago, with no success yet.
The mayor and city council share their wish lists of issues they would like to see tackled in the coming year.
NORTH ROYALTON – At the beginning of each new year, the mayor and each city council member takes time to share with The North Royalton Post a few projects, loose ends or items they would like to focus on.

From finding a solution to the vacancies at the Timber Ridge Plaza to continued beautification efforts, here are their individual to-do lists for 2019.

Mayor Bob Stefanik
This year marks the mayor's final year due to term limitations, but Stefanik said he wants to end on a high note, tying loose ends such as Elek Springs and Timber Ridge Plaza.

"We're working closely with the Cleveland Metroparks in an effort to forge a partnership with them on the Elek Springs property on state Route 82," he said. "We've been waiting for the right opportunity and partner to utilize this rugged 14-acre site that was considered for a housing development at one time."

The city purchased the property using an expiring state grant when Stefanik took office in 2008.

As for the Timber Ridge Plaza, Stefanik has been very vocal about his frustrations.

"This never-ending saga continues to be a troublesome situation that we have been trying to address with the property owner for years," he said. "Once again in late 2018, we met with Carter Properties along with two viable tenants in the hopes of at last brokering an agreement to either fill or redevelop the property."

He stressed the city will continue to bring Carter Properties prospective tenants but at the end of the day, it's up to Carter to broker the deal as owners.

The mayor vows he remains committed.

"Just because this is my last year as mayor, rest assured that I will be just as engaged and out in the community as I was back in 2008," he said.

Council President Larry Antoskiewicz
Antoskiewicz, though not term limited, is seeking the open mayoral seat but said his focus is the role of council president.

"My job will be to keep council focused on the current issues and projects and not on their individual agendas," he said.

He will continue to work with and support business owners; monitor street and stormwater projects; continue to support residents by supporting the schools and their organizations including baseball and soccer boosters, city service organizations and seniors.

He's looking forward to the continued beautification of the Route 82 corridor with upgrades at the North Royalton Cemetery that include an archway and rehabilitation of the historical receiving vault, and at the City Green, the installation of a new electrical sign and electrical upgrades throughout the Green.

As chairman of Finance and the North Royalton Planning Commission, he said he is looking forward to the impact that business and residential growth will have on the city.

Ward 1 Councilman John Nickell
Nickell said his aspirations and vision for North Royalton will take on more significance as not only a sixth-term councilman but as a candidate for mayor.

He said the city has done a good job resurfacing roads, but the focus needs to shift from side streets to mains.

With the city growing and traffic congestion worsening, he wants to consider widening key intersections into three lanes for left turns starting with the Ridge and Royalwood intersection followed by Whitney and West 130th, Wallings and State, and Albion and York as part of a 10-year improvement plan.

Nickell wants to give more attention to the City Green and re-imagine what he calls an "underutilized public space" with a revised pavilion plan and more walking paths.

The Timber Ridge Plaza is another focal point, Nickell said.

Sidewalks are at his forefront too, including the area from Route 82 to city hall and the 300-foot section on the east side of Ridge road near the brand-new, heavily-used Metroparks trail.

"We are one of a few communities to have such an amenity, and we need to connect to it and promote it," Nickell said.

Ward 2 Councilman Gary Petrusky
Continued attention to streets, walking paths, the possible expansion of the North Royalton Family YMCA and beautification, especially at city entry points, are in Petrusky's sights.

"We have some roads and cul-de-sacs that need attention that were not taken care of in 2018," he said.

A number of sidewalks need attention too, he added.

"I know that falls on residents but if sewers are around those, it might need to be something the city looks into," he said. "And it would be nice to put in a loop around Royal Valley."

The YMCA is doing so well, it is running out of room so he would like to begin expansion talks.

"And maybe build an outdoor track so people can go walk up there," he said.

Adding another building inspector is another wish-list item.

"We're trying to beautify with some of the ordinances we have but maybe we need to take beautification one step further. People are already rendering an opinion when they drive a quarter mile into the city," he said.

Ward 3 Councilman Dan Langshaw
Langshaw's goals include advocating the Ohio General Assembly to restore local government funding, increasing communication with residents and continuing to seek ways for responsible economic development.

He said the city has lost over $6 million in state funding since 2011, so he hopes to testify before the House and Senate Finance Committees to advocate restoring funding.

Exploring ways to increase communication with his 5,500 residents are a top priority by hosting more ward events, expanded monthly coffee hours, using social media more to connect and hosting neighborhood meet and greets at various residents' homes.

"Continuing to maintain a high level of constituent service for my residents is extremely important to me, and I know my residents appreciate it as well," he said.

Last year he met with business leaders, investors and realtors and will develop ways to turn this input into initiatives and outreach specifically targeted for Ward 3, which he calls the heart of the city's general industrial business.

"It is so important to continue foster a more business-friendly environment that will help retain existing businesses, attract new ones and encourage residents to buy local in North Royalton," he said.

Ward 4 Councilman Paul Marnecheck
Marnecheck said it's amazing what a difference a year makes, reflecting back on the things that transpired in 2018.

"The Hidden Backyard is breathing life back into the old Tonight Tonight site, and we have the addition of the Kavana Social Kitchen, so my hunger pangs are gone," he said.

The long-stalled state Route 82 widening and rehabilitation is underway. The community spent the bulk of 2018 reflecting on how far it's come in 200 years during its bicentennial year. All this reminds that anything monumental and worthwhile often takes time, he said.

"I want to keep thinking about where we want to be in 50 years when the time capsule is unearthed," Marnecheck said. "The labors it took to finally begin the Royalton Road widening, I've heard varying dates of when the city began working with the state and feds, reminds me how real progress takes patience."

His hope looking ahead is to find common sense solutions to the city's 2019 challenges.

Ward 5 Councilwoman Cheryl Hannan
Hannan has three primary goals in 2019: insist on sound stewardship of city infrastructure, explore creative opportunities for fiscal sustainability and keep the community safe.

For her, this includes re-envisioning the City Green, upgrades to the cemetery, constant vigilance on street upkeep, overseeing the Route 82 widening and repairing stormwater management systems.

As for fiscal sustainability, Hannan pledges to support city investments in sound developments that will produce economic dividends.

"I am pleased to support and welcome to our community recent new businesses such as Kavana Social Kitchen and The Hidden Backyard restaurant," she said.

Safety is the hallmark of every successful community, she said, and that means rapid responses to emergencies and ensuring safety forces have the best technology and equipment to be fully prepared.

"In this regard, I look forward to welcoming one of our newest recruits — a police dog," she said.

She would like to initiate and support programs to reduce gun violence and embrace community-wide efforts to establish a re-entry program for offenders exiting the criminal justice system and re-entering society to ensure they become productive, law-abiding citizens.

Ward 6 Councilman Dan Kasaris
Kasaris said he looks forward to finishing the good work started in 2007: continued economic development growth, continued paving of streets and fiscal responsibility.

"As the stock market nosedives and uncertainty with the national economy abounds, we have cut our expenses, we have cut our budget and we have cut our income projections because we are fiscally responsible," he said.

He believes the widening of Route 82 will pave the way for more businesses. Though he knows it is an inconvenience, ultimately it is for the city's good.

"I also look forward to some angry phone calls from people who live on Route 82, but at the end of the day, it will be wider, better and provide for freer flow of traffic," he said.

He is term limited but has expressed plans to run for the council president seat.