Light up North Royalton
Christmas season ushered in at holiday lighting ceremony
James and Emmalynn Madzia, 17 months and 5, are mesmerized by their magical meeting with Mr. and Mrs. Claus and their elves. Photos by JAIME ANTON
Ben and Cindy Jamiot and Barb Rauckhorst are all feeling the warmth of the season as they grab a cup of hot chocolate from Royalton Hills Lions member Pat Stahorsky.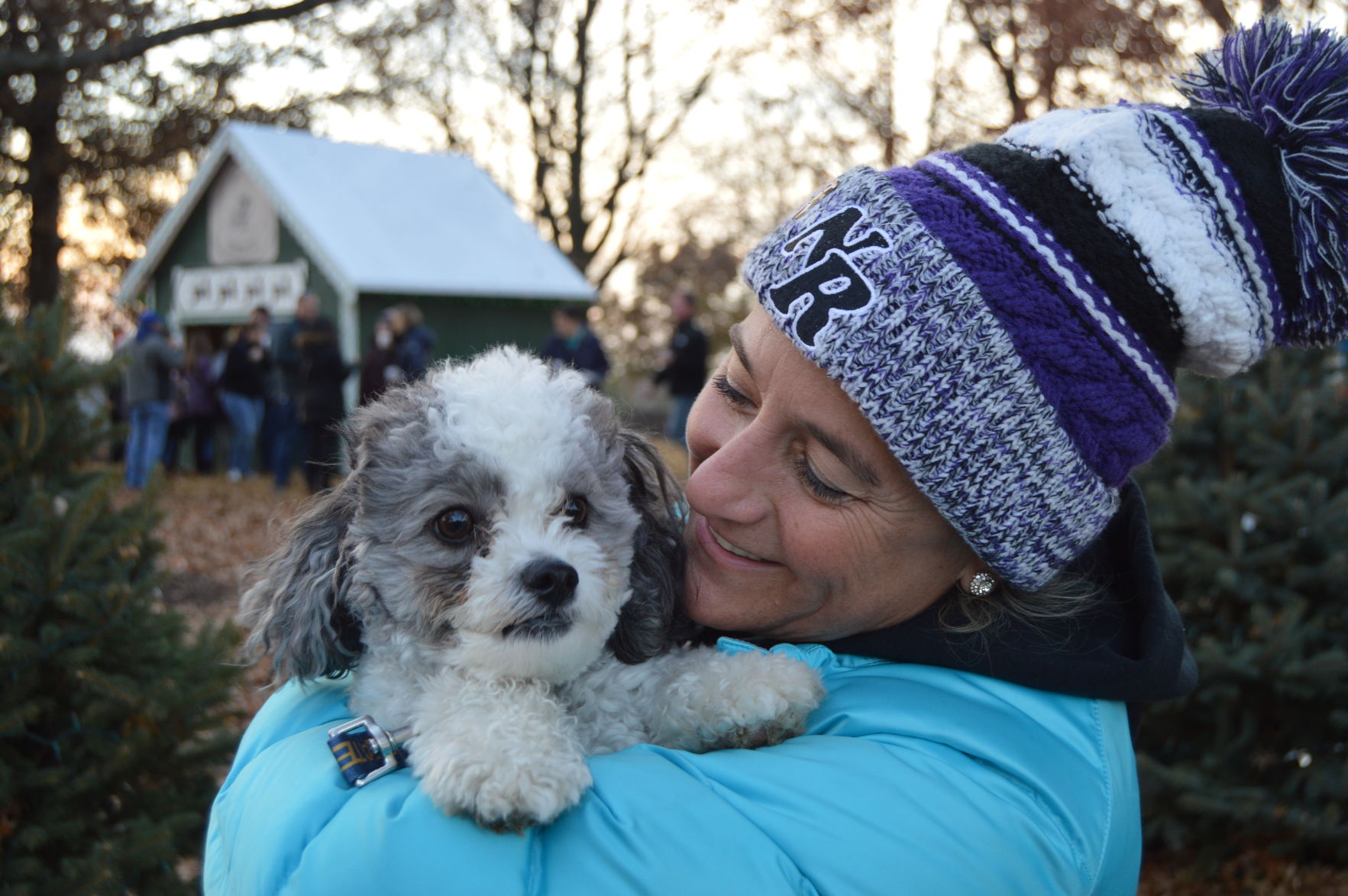 Jodi Napier, of North Royalton, cuddles her fur baby, McGraw. Napier sports her Bear pride too as a gymnastics coach.
The North Royalton High School Marching Band's drum line and Royalaire flag team lead the way down the lane during the parade.
Boys and girls helped Mayor Bob Stefanik, Council President Larry Antoskiewicz and Ward 3 Councilman Dan Langshaw, who is crouched among the children, count down the lighting.
Hundreds of people and pups lined the parade route awaiting Santa's grand entrance. Erika Brown and her daughter Aubri, 3; dog Louie; and Tina Lawrence and her daughter Kendra, 4, are happy to see a good, old-fashioned parade.
NORTH ROYALTON – The sounds of Christmas tunes danced across the City Green, as families happily waited to warm up with a free cup of hot chocolate and a doughnut before staking claim to the perfect vantage point to take in a good, old-fashioned parade.

The joy of the community was tangible with many sporting their Santa hats and smiles as the wonder of the season began to take hold.

"I'm looking to make memories with her. It's only once a lifetime, so you've got to cherish all of it," Tina Lawrence, of North Royalton, said, realizing this stage of her 4-year-old daughter Kendra's childhood is fleeting.

It is estimated close to 1,000 people gathered on the Green to partake in the annual Holiday Lighting Ceremony and Parade on Nov. 25, a longstanding tradition.

The lighting is a labor of love, the main project of the Holiday Lighting Committee, comprised of representatives from all the city's service clubs. The lighting unites the community to celebrate the holidays.

"This really brings the city together," Gail Holzman, holiday lighting member, said.

"To me, it kicks off Christmas," Barb Rauckhorst, a fellow holiday lighting member, added.

"And the city workers really helped bring it all together," Tony Sandora, holiday lighting member, said, crediting city employees for their assistance.

Families truly appreciate the experience, watching the North Royalton High School Marching Band drum line and the flag-twirling Royalaires march past the Green, as clubs and service groups throw candy, before the man of the hour, Santa Claus, arrives atop a North Royalton firetruck, ready to greet all the boys and girls and hear their Christmas lists.

Ava Klein was just five months old last year when she sat on Santa's lap. Her parents said it's a bit more magical for them this year as Ava, now 17 months, is getting older.

"We definitely wanted to bring her back for a second visit with Santa," her mom, Michelle, said. "She's not going to sleep through the whole thing this year."

Siblings Emmalynn and James Madzia, 5 years old and 17 months respectively, took their place on Santa's lap too. Both were mesmerized by Mr. Claus, Mrs. Claus and their elves.

Emmalynn asked for a tablet and James a workbench.

"He's always taking all his daddy's tools, so now he can have his own, " his mother Janelle said.

At dusk, Mayor Bob Stefanik, Council President Larry Antoskiewicz and Ward 3 Councilman Dan Langshaw, surrounded by several boys and girls, counted down from 10 before the mayor flipped the switch to usher in Christmas in North Royalton.

"Merry Christmas!" they shouted in unison.

Pat Stahorsky volunteered with several North Royalton Hills Lions Club members passing out the doughnuts and hot chocolate to guests at "Judy's hot chocolate" stand.

She said she wouldn't miss this event. It's a much-needed bright spot. More than the lighting, she finds joy in the light reflected in the hearts and faces of those she meets here.

"For me personally, this is a way of giving back to the people. It's such a blessing to do this, especially to see the smiles and the twinkle in their eye. And it's so much fun. It's wonderful. We need that now."